Chemicals For Manufacturing Processes


We Develop Chemicals That Are Friendlier To The Environment


We Make Cleaners For:
Medical
Aerospace
Industrial Manufacturing
Automotive
Since 1951, Chemistry and Knowledge For Manufacturing's Toughest Problems
Chautauqua Chemicals Co., Inc. in Ashville, NY supplies and develops a high-performance line of detergents, degreasers, and rust preventative chemicals using the latest technology and expertise.  Our chemicals are specially formulated for use in today's parts cleaning & finishing processes and are designed to produce the desired result for your application.  Our products are developed with minimal environmental impact through the raw ingredients used and are all manufactured at our facility in the USA.
Our philosophy is to discuss the details of your process before making a recommendation.  Contact us today to discuss a solution for your cleaning or finishing application.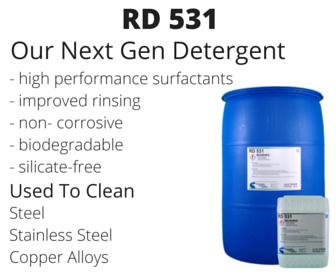 Learn More
RD 531 is a heavy-duty detergent for use in ultrasonic and soak systems.  This chemical is especially effective in cleaning carbide cutting tools without cobalt leaching.  This cleaner is excellent for removal of machining oils, polishing, and lapping compounds.